Royal Canin Obesity Management DP Veterinary compleetvoer voor honden die last van gewrichtsproblemen, vaak veroorzaakt door overgewicht.


Gedurende de afgelopen jaren zijn er steeds meer huisdieren gekomen die lijden aan overgewicht. Het overgewicht wordt vaak veroorzaakt door een te grote energietoevoer terwijl de dieren een steeds lagere energiebehoefte hebben. Honden brengen het grootste deel van hun dag binnenshuis door. Als gevolg hiervan krijgen ze niet genoeg beweging en hebben daarom minder energie nodig om hun lichaamsgewicht te behouden.

Overgewicht beïnvloedt niet alleen het welzijn van je hond op negatieve wijze, maar het verslechtert na verloop van tijd ook de gezondheid van je hond. De levensverwachting kan hierdoor significant dalen.

Een gezond lichaamsgewicht bevordert het welzijn van je hond en zorgt tegelijk voor een behoud van zijn gezondheid. Bij kortharige rassen kun je gemakkelijk herkennen of jouw hond een ideaal gewicht heeft: wanneer de ribben en de taille licht zichtbaar zijn, heeft je hond zijn ideale gewicht bereikt. Om het ideale gewicht bij langharige rassen te controleren, kun je je vlakke hand lichtjes op de ribben leggen. Deze zouden zonder erop te drukken voelbaar moeten zijn. Wanneer je de ribben nauwelijks of zelfs niet kunt voelen, lijdt je hond aan overgewicht.

Royal Canin Obesity Management is een compleetvoer geschikt om je hond met overgewicht te helpen bij het afvallen. Om dit te bereiken heeft het voer een verlaagde energiegehalte.

Enkel gebruiken na raadpleging van de dierenarts.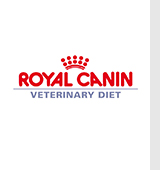 Let op de volgende aanwijzingen:
Het voeden van een veterinair dieetvoer mag alleen in samenspraak met de dierenarts.
Tijdens het voeden van een veterinair dieetvoer, dien je jouw dierenarts regelmatig (elke 6 maanden) te bezoeken.
Als de gezondheid van je huisdier verslechtert, dien je onmiddelijk de dierenarts te raadplegen.
Met de toevoeging van het geselecteerde dieetvoer aan je winkelwagen, bevestig je de bovengenoemde aanwijzingen te hebben gelezen en begrepen.
Indicaties:
Contraindicaties:
ondergewicht, cachexie, verhoogde energiebehoefte
zwangere of lacterende teven - puppy's
Ter behoud van het ideale gewicht na een succesvol dieet kun je jouw hond Weight Control Diabetic geven of, wanneer je hond gecastreerd is, met Vet Cate Nutration verder behandelen.

Royal Canin Obesity Management DP Veterinary Diet in één oogopslag:
Groot aandeel aan eiwitten: door de extra eiwitten worden de spieren verzadigd waardoor ze behouden blijven tijdens het afvallen.
Gebalanceerde combinatie aan voedingsstoffen: de in het voer verwerkte mineralen en vitaminen zorgen ervoor dat de cellen, ondanks het gereduceerde energiegehalte, goed worden verzorgd.
Gewrichtsbescherming: glucosamine (ter bevordering van de vorming van nieuwe glycosamineglycanen) evenals chondroïtinesulfat (ter remming van de enzymatische beschadiging van chondrocyten) beschermen de gewrichten tegen degeneratieve gewrichtsziekten.
EPA/DHA: eicosapenteenzuur (EPA) en docosahexeenzuur (DHA) zijn lange vetzuurketens behorende tot de omega-3-vetzuren. De twee stoffen ondersteunen de gezondheid van de huid en gaan ontstekingsreacties ervan tegen.
Behandelduur:
De dagelijkse hoeveelheid voer is afhankelijk van de mate van overgewicht. Het optimale tempo om af te vallen ligt op 1 tot 3% per week.

Overige informatie:
Volgende voordelen kenmerken hypocalorische diëten met hoog eiwitgehalte:
excellente acceptatie
verhoogd verzadigingsgevoel
verlies in spiermassa tijdens de gewichtsafname wordt tegengegaan.
Eiwitten hebben bij vergelijkbaar verzorgingsniveau een 30 % lagere netto-energiebalans dan koolhydraten.