Orale rehydratie-oplossing voor honden & katten. Dieetvoer dat gericht is op het beter vasthouden van vocht, bij acute diarree of braken.


Met Royal Canin Veterinary Diet Canine Rehydration Support Honden- en Kattenvoer kun je het overmatig verliezen van vocht door bijv. diarree of braken voorkomen. Ook is deze voeding een goede oplossing na operationele ingrepen of de overstap van parenterale naar enterale voeding. Het speciale instant-dieet is daarnaast geschikt voor zowel honden als katten. Je kan hiermee het verliezen van vocht en mineralen verminderen en daarnaast bijdragen aan het herstel van de elektrolytenbalans. Dit kan dan het geneesproces van je hond/kat verbeteren. Het gebruik van deze voeding is simpel. De dagelijkse hoeveelheid is gebaseerd op het lichaamsgewicht en de hoeveelheid vocht die verloren wordt.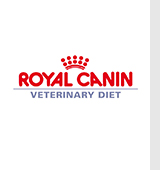 Let op de volgende zaken:
Het voeren van speciaal dieetvoer mag je alleen doen in overleg met je dierenarts.
Gedurende de periode dat je dier het dieetvoer eet moet je minimaal om de 6 maanden voor controle langs de arts.
Als de gezondheid van je dier verslechtert moet je onmiddellijk advies van je dierenarts vragen.
Als je dit product in je winkelmandje stopt bevestig je dat je de bovenstaande opmerkingen hebt gelezen en begrepen.
Indicaties:
Acute diarree
Overgeven/braken
Operationele ingrepen
Uitdroging
Overstap van parenterale naar enterale voeding
Specifieke productinformatie:
Instant-dieet, speciaal ontwikkeld om de balans van vocht en elektrolyten te bevorderen
Verdere informatie:
Royal Canin Veterinary Diet Canine Rehydration Support Honden- en Kattenvoer heeft als orale rehydratatie-oplossing enkele voordelen, in vergelijking met de intraveneuze vervanger:
Eenvoudig
Goedkoop
Kost minder tijd en moeite om te overzien
Niet agressief
Behandelperiode:
In overeenstemming met de aanbeveling van de dierenarts.