Hoogwaardig droogvoer voor volwassen honden (1 - 6 jaar) van kleine rassen met omega 3 en 6. Zorgt voor een sterk hart, gezonde spijsvertering, een sterk afweersysteem en meer emotionele stabiliteit.


Met het droogvoer Hill's Adult Calm & Happy Small & Miniature met kip verwen je, je hond met een smaakvol en volwaardig wellness-voer. Dit voer is speciaal ontwikkeld voor honden van kleine rassen en kan bijdragen aan het lichamelijke welzijn evenals het emotionele welzijn van je hond.

Net als mensen kunnen honden ook last hebben van stress en angst, veroorzaakt door bijvoorbeeld lawaai of langdurige afwezigheid van de eigenaar. Als een hond gestrest is, kan dit zich op veel manieren uiten, zoals toegenomen geblaf, agressief gedrag of een slechte spijsvertering. Het hondenvoer Calm & Happy van Hill's scoort met zijn bijzondere receptuur, die dankzij de aanwezige gehydrolyseerde caseïne uit melk het emotionele evenwicht van honden kan bevorderen.

Dit voer is volwaardig compleetvoer geschikt voor volwassen honden tussen 1 en 6 jaar oud en is aanbevolen door dierenartsen. Het evenwichtige aandeel aan natrium en fosfor draagt bij aan de gezondheid van het hart en andere organen. Bovendien bevat dit voer antioxidanten die het immuunsysteem bevorderen en zo bij kunnen dragen aan een lang leven. De samenstelling is evenwichtig, licht verteerbaar en speciaal afgestemd op kleine rassen. Omega 3- en omega 6-vetzuren ondersteunen daarnaast een glanzende vacht en een gezonde huid.

Hill's Science Plan Adult Calm & Happy Small & Miniature met kip bestaat voor 45% uit gevogelte, waarvan 30% kip. Het verwent de smaakpapillen van je hond met een van nature lekkere smaak. Dit voer bevat geen kunstmatige geur- en kleurstoffen.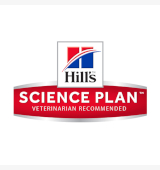 Let op de volgende aanwijzingen:
Het voeden van een veterinair dieetvoer mag alleen in samenspraak met de dierenarts.
Tijdens het voeden van een veterinair dieetvoer, dien je jouw dierenarts regelmatig (elke 6 maanden) te bezoeken.
Als de gezondheid van je huisdier verslechtert, dien je onmiddelijk de dierenarts te raadplegen.
Met de toevoeging van het geselecteerde dieetvoer aan je winkelwagen, bevestig je de bovengenoemde aanwijzingen te hebben gelezen en begrepen.
Hill's Adult Calm & Happy Small & Miniature met kip in één oogopslag:
droogvoer voor volwassen honden (1 - 6 jaar)
speciaal voor kleine rassen
groot vleesaandeel: met 45% gevogelte, waarvan 30% kip
bevordert de emotionele balans: met gehydrolyseerde caseïne van melk voor meer emotioneel evenwicht in stressvolle situaties
voor een sterk hart: evenwichtig aandeel natrium en fosfor
gezonde spijsvertering: licht verteerbare samenstelling
mooie vacht en een gezonde huid: bevat omega 3- en omega 6-vetzuren en meer voedingsstoffen die bij kunnen dragen aan de gezondheid van de vacht en huid
versterkt het immuunsysteem: met antioxidanten ter bevordering van een sterk afweersysteem
evenwichtige receptuur: met eiwitten, vitaminen en mineralen
evenwichtig energiegehalte
vrij van kunstmatige geur- en kleurstoffen
aanbevolen door dierenartsen