Glutenvrij, goed verdraagbaar natvoer voor katten met voedselonverdraagbaarheden, ter verlichting van spijsverteringsproblemen, jeuk of haarverlies, single-eiwit: één dierlijke eiwitbron, met rijst.


Voedingsmiddelonverdraagbaarheden op bepaalde inhoudsstoffen in het voer komen bij katten vaak voor. Spijsverteringsproblemen, braken, diarree of huid- en vachtproblemen zoals haaruitval en jeuk zijn typische symptomen voor een allergische reactie. Om maag-darmproblemen en dermatosen te verlichten is een overstap op een speciaalvoer belangrijk.

Animonda Integra Protect adult sensitive heeft een gereduceerde ingrediëntenlijst die grondstoffen met een laag allergeen potentiaal bevatten. Om onverdraagbaarheden op bepaalde eiwitten te reduceren is in dit natvoer altijd maar één enkele dierlijke eiwitbron gebruikt. Als enige koolhydraatbron wordt glutenvrije rijst of aardappel gebruikt. Raapzaadolie levert waardevolle omega-3- en -6-vetzuren en helpt reacties van de huid te reduceren. Met een speciale combinatie aan mineralen wordt het risico op struviet- en calciumoxalaatstenen tegengegaan.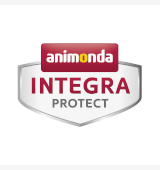 Let op de volgende aanwijzingen:
Het voeden van een veterinair dieetvoer mag alleen in samenspraak met de dierenarts.
Tijdens het voeden van een veterinair dieetvoer, dien je jouw dierenarts regelmatig (elke 6 maanden) te bezoeken.
Als de gezondheid van je huisdier verslechtert, dien je onmiddelijk de dierenarts te raadplegen.
Met de toevoeging van het geselecteerde dieetvoer aan je winkelwagen, bevestig je de bovengenoemde aanwijzingen te hebben gelezen en begrepen.
Animonda Integra Protect adult sensitive in één oogopslag:
Compleetvoer voor katten met sensibele spijsverteringsstelsel en voedingsmiddelonverdraagbaarheden
Ter verlichting van symptomen zoals diarree, overgeven, haaruitval en jeuk
Gereduceerde ingrediëntenlijst: om het allergene potentiaal te minimaliseren
Single-eiwit: elke soort maar één enkele dierlijke eiwitbron
Glutenvrij: met licht verteerbare rijst of voedzame aardappel als enige koolhydratenbron
Raapzaadolie: voor een gezonde huid en een glanzende vacht
Profylaxe tegen de vorming van blaasstenen: speciale mineralen werken struviet- en oxalaatstenen tegen
Zonder suiker, soja of kunstmatige toevoegingen