Graanvrij dieetvoer voor volwassen katten met ziekten van het maag-darmkanaal, voor tijdens & na acute diarree. Heeft een verhoogd elektrolytgehalte, licht verteerbare ingrediënten & laag vetgehalte.


Katten met gastro-intestinale ziekten en acute intestinale absorptiestoornissen kunnen het voer niet voldoende verteren, voedingstoffen slechter opnemen en hebben vaak last van een verstoorde darmflora. Door de symptomen van braken en diarree verliezen katten meer van het lichaamseigen vocht en belangrijke elektrolyten. Dit kan leiden tot overmatige irritatie van de slijmvliezen in het maag-darmkanaal. Als deze symptomen een langere tijd aanhouden kan dit leiden tot tekortkomingen zoals uitdroging en vermagering. Bij het niet goed werken van de alvleesklier zoals bijvoorbeeld exocriene pancreasinsufficiëntie, kunnen de symptomen hetzelfde zijn.

Hoe helpt Concept for Life Veterinary Diet Gastro Intestinal jouw kat?

Concept for Life Veterinary Diet Gastro Intestinal is speciaal ontwikkeld premium dieet-compleetvoer voor volwassen katten, optimaal aangepast aan de behoeften van katten die lijden aan gastro-intestinale ziektes en een verminderde functionaliteit van de alvleesklier.

De licht verteerbare ingrediënten zoals vlees, pompoen, zalmolie en ingewanden van kalkoen zorgen ervoor dat de maag en darmen van je kat niet onnodig worden belast. Voor een optimale verdraagbaarheid moet het voer in kleine porties worden gegeven. Door een verhoogd gehalte aan geselecteerde mineralen kan het verliezen van elektrolyten snel worden gecompenseerd en kan het welzijn van je kat worden bevorderd. Het hoge vochtgehalte in het natvoer wordt gebruikt om de vloeistofinname van je kat te verhogen, wat uitdroging voorkomt. Daarom is dit voer ook geschikt voor tijdens en na acute of chronische diarree.

Dit voer bevat bovendien mannan-oligosacchariden en omega-3-vetzuren uit zalmolie die de verstoorde darmflora helpen en tegelijkertijd een ontstekingsremmende werking hebben. Het heeft daarnaast een laag vetgehalte wat noodzakelijk is bij het hebben van exocriene pancreasinsufficiëntie.

Concept for Life Veterinary Diet - op maat gemaakt voor jouw kat.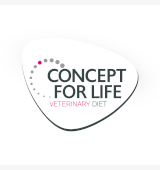 Let op de volgende aanwijzingen:
Het voeden van een veterinair dieetvoer mag alleen in samenspraak met de dierenarts.
Tijdens het voeden van een veterinair dieetvoer, dien je jouw dierenarts regelmatig (elke 6 maanden) te bezoeken.
Als de gezondheid van je huisdier verslechtert, dien je onmiddelijk de dierenarts te raadplegen.
Met de toevoeging van het geselecteerde dieetvoer aan je winkelwagen, bevestig je de bovengenoemde aanwijzingen te hebben gelezen en begrepen.
Onze kwaliteitsgarantie:
Compleet dieetvoer op maat gemaakt voor zieke katten
Wetenschappelijk bewezen voedingsconcept ter ondersteuning van diergeneeskundige behandeling
Graanvrije receptuur
Vrij van tarwe, mais en soja
Wordt zelden afgeslagen en is goed te verdragen dankzij het gebruik van hoogwaardig vlees
Gemaakt in Duitsland
Algemene instructies:
Het wordt aanbevolen om een dierenarts te raadplegen voordat je de voedingsduur aanhoudt of verlengt.
Terwijl je dieetvoer geeft moet je regelmatig naar je dierenarts gaan voor controle.
Als de gezondheid van je huisdier verslechtert moet je onmiddellijk je dierenarts raadplegen.