Hill's Prescription Diet Feline k/d helpt het leven en de levenskwaliteit van uw dier door het ziekteverloop te vertragen en het reduceren van de symptomen te verbeteren.
De samenstelling van Hill's Prescription Diet Feline k/d is speciaal ontwikkeld voor behandeling met voer voor katten die aan nieraandoeningen lijden.
Nieraandoeningen hebben talrijke oorzaken die verschillende symptomen bij uw kat kunnen veroorzaken en haar leven in gevaar kunnen brengen.
Soms ontstaat de nieraandoening in aanwezigheid van andere ziektes of door verandering in de gezondheidstoestand van uw kat door erfelijke of door rasgebonden factoren of zelfs door voedingsfactoren.
De tekenen van een nieraandoening blijven moeilijk te ontdekken en openbaren zich over het algemeen pas na het verlies van tweederde van de nierfunctie.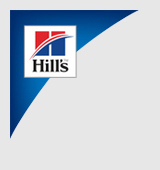 Let op de volgende aanwijzingen:
Het voeden van een veterinair dieetvoer mag alleen in samenspraak met de dierenarts.
Tijdens het voeden van een veterinair dieetvoer, dien je jouw dierenarts regelmatig (elke 6 maanden) te bezoeken.
Als de gezondheid van je huisdier verslechtert, dien je onmiddelijk de dierenarts te raadplegen.
Met de toevoeging van het geselecteerde dieetvoer aan je winkelwagen, bevestig je de bovengenoemde aanwijzingen te hebben gelezen en begrepen.
Hill´s Prescription Diet Feline k/d biedt verschillende voordelen:
gereduceerd proteïnegehalte om afbraak van schadelijke stoffen, waardoor de kat zich niet lekker voelt, te vermijden.
met extra omega-3 vetzuren uit visolie, ter verbetering van de doorbloeding van de nieren.
het hoge gehalte aan antioxidanten helpt schadelijke vrije radicalen te neutraliseren.
door de fantastische smaak kunt u uw kat verwennen.
Voor nadere informatie en een passende behandeling van uw kat moet u altijd uw dierenarts om advies vragen.
Opmerking:
Met de aankoop van Hill's Prescription Diet Feline - K/D bevestigt u dat uw huisdier onderzocht is door een dierenarts die het gebruik van dit voer heeft aanbevolen op basis van het onderzoek en de diagnose. Gedurende de periode waarin uw huisdier gevoed wordt met Hill's Prescription Diet Feline - K/D is het aanbevolen om ten minste iedere 6 maanden uw dierenarts te consulteren met betrekking tot het gebruik van dit voer en de voortdurende verzorging van uw huisdier. Indien de gezondheidstoestand van uw huisdier op enige wijze verslechtert tijdens het gebruik van Hill's Prescription Diet Feline - K/D consulteer dan onmiddellijk uw dierenarts.
100% smaakgarantie - uw huisdier zal er van houden!