Prescription Diet Feline Metabolic + Urinary natvoer voor zwaarlijvige katten met ziekten aan de urinewegen, ter gewichtsreductie evenals oplossing & profylaxe bij struvietstenen, lekker & verzadigend
Hill´s Prescription Diet biedt een veelvoud aan klinisch bewezen, therapeutische voeren aan, die als therapie bij verschillende ziektebeelden kunnen worden ingezet.
Hill´s Prescription Diet Feline Metabolic + Urinary ondersteunt zwaarlijvige katten met ziekten van de onderste urinewegen bij de gewichtsreductie of bij het behoud van een gezond gewicht na een dieet. Dankzij het wetenschappelijk ontwikkelde voedingsstofcomplex heeft het voer direct op het individuele energieverbruik van de kat invloed en kan zo de lichaamseigen functie ter verbranding van de vetopslag activeren. Struvietkristallen en -stenen ontstaan meestal door een oververzadiging van de urine met magnesium, ammonium en fosfor in combinatie met alkalische pH-waarden van de urine. De receptuur van Hill's Prescription Diet Feline Metabolic + Urinary Maaltijdzakjes heeft urineverzurende eigenschappen en bevat een duidelijk gereduceerd magnesiumgehalte. De receptuur kan klinisch bewezen struvietstenen binnen 7 dagen oplossen en het gewicht in 60 dagen met 11% reduceren. Hill's Prescription Diet Feline Metabolic + Urinary heeft een uitstekende smaak en zorgt voor een goed verzadigend gevoel tussen de maaltijden door.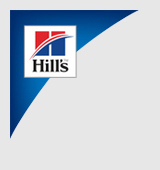 Let op de volgende aanwijzingen:
Het voeden van een veterinair dieetvoer mag alleen in samenspraak met de dierenarts.
Tijdens het voeden van een veterinair dieetvoer, dien je jouw dierenarts regelmatig (elke 6 maanden) te bezoeken.
Als de gezondheid van je huisdier verslechtert, dien je onmiddelijk de dierenarts te raadplegen.
Met de toevoeging van het geselecteerde dieetvoer aan je winkelwagen, bevestig je de bovengenoemde aanwijzingen te hebben gelezen en begrepen.
Indicaties:
Initieel voedingsmanagement van katten met alle vormen van Feline Lower Urinary Tract Disease (FLUTD), inclusief kristalurie en/of urolithiase van iedere oorzaak, urethrapropjes en idiopatische cystitis
Oplossen van steriele struvietstenen
Langdurig voedingsmanagement voor katten, die vatbaar zijn voor:

Struviet-, calciumoxalaat-, calciumfosfaatkristallen** en -stenen (reductie van het optreden en het herhaalde optreden)
Urethrapropjes (bijna uitsluitend samengaand met struviet- of calciumfosfaatkristallen)
Feline Idiopathic Cystitis (FIC)
Zwaarlijvige katten en katten met overgewicht
Behoud van het gewicht na een gewichtsreductie
Contra-indicaties

Honden
Kittens
Zwangere of lacterende katten

Hill's Prescription Diet Feline Metabolic + Urinary wordt door de volgende eigenschappen gekenmerkt:

Wetenschappelijk samengesteld voedingsstofcomplex: ter activatie van de vetverbranding in het kattenlichaam
Urineverzurende eigenschappen & laag magnesiumgehalte: om blaasstenen tegen te werken en op te lossen
Recept kan klinisch bewezen struvietstenen in slechts 7 dagen oplossen en het gewicht binnen 60 dagen met 11% reduceren
Lekker en verzadigend: goede acceptatie en verzadiging tussen de maaltijden door
Belangrijke antioxidanten om de met overgewicht samengaande ontstekingscyclus te doorbreken

100% smaakgarantie - uw huisdier zal er dol op zijn!

Hill´s Prescription Diet producten worden uitsluitend uit hoogwaardige ingrediënten bereid en hebben een uitstekende smaak. Hill´s is ervan overtuigd, dat uw huisdier dol zal zijn op Hill´s Prescription Diet en garandeert daarom voor dit product 100% smaakgarantie.