Hill's Science Plan Adult 1-6 Indoor Cat compleetvoer ontwikkeld voor binnenkatte (vanaf één jaar), ter behoud van het ideale gewicht, anti-haarbal, lekkere smaak, plantenvezels voor een verzadigend gevoel


Lijdt uw kat regelmatig aan haarballen, en constateert de dierenarts gelijktijdig ook nog overgewicht? Dan biedt Hill's Science Plan Adult 1-6 Indoor Cat nu de oplossing:

Hill's Science Plan Adult 1-6 Indoor Cat compleetvoer is een gebalanceerde, makkelijk verteerbare voeding met een gereduceerd aandeel aan vetten, dat de vorming van haarballen tegengaat. Door het lage aandeel aan calorieën en vetten kunt u tegelijkertijd het overgewicht van uw kat tegen gaan of zijn ideale gewicht behouden.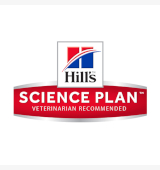 Let op de volgende aanwijzingen:
Het voeden van een veterinair dieetvoer mag alleen in samenspraak met de dierenarts.
Tijdens het voeden van een veterinair dieetvoer, dien je jouw dierenarts regelmatig (elke 6 maanden) te bezoeken.
Als de gezondheid van je huisdier verslechtert, dien je onmiddelijk de dierenarts te raadplegen.
Met de toevoeging van het geselecteerde dieetvoer aan je winkelwagen, bevestig je de bovengenoemde aanwijzingen te hebben gelezen en begrepen.
Heerlijke brokjes met speciale vorm en plantenvezels ondersteunt de spijvertering van uw kat, en zorgt voor de afbraak van haarballen indien uw kat er dagelijks mee wordt gevoerd
Het aandeel aan calorieën en vetten in dit voer is laag gehouden om katten tussen één en zes jaar met overgewicht of de neiging ertoe, te ondersteunen bij het afvallen
De voedingsstofcombinatie met veel vezels zorgt voor een verzadigend gevoel zonder dat u de hoeveelheid voer hoeft te verminderen
Bevordert een gezonde huid en glanzende vacht
De makkelijk verteerbare ingrediënten van hoge kwaliteit van Hill's kattenvoer zorgen voor een zeer hoge voedingswaarde in een schaaltje Science Plan. Hierdoor hoeft uw kat er minder van te eten. De kosten aan dierenvoer vallen bij Hill's daarom misschien lager uit dan u verwacht.
Doordat het kattenvoer van Hill's zeer goed verteerbaar is, neemt de hoeveelheid ontlasting van uw kat af. Hierdoor hoeft u het kattengrit in de kattenbak minder vaak te vervangen.
Hill's Science Plan Adult 1-6 Indoor Cat compleetvoer – krokent, met een lekkere smaak is het een ideaal voer om uw kat slank te houden – en dat gedurende haar gehele, gezonde kattenleven.
Brokjes: