Royal Canin Veterinary Diet Sensitivity Control Kip & Rijst - dieet natvoer voor honden met voedingsmiddelallergieën en -intoleranties, die tot ziekten van het maag-darmkanaal hebben geleid, bij chronische/acute diarree & colitis


Symptomen zoals chronische en acute diarree evenals ontstekingen in de darm of maag zijn vaak tekenen voor allergieën. Ook jeuk, huidontstekingen evenals vachtproblemen kunnen allergische reacties zijn. Royal Canin Sensitivity is een dieet natvoer voor honden, met voedingsmiddelallergieën of voedingsmiddelintoleranties, die tot ziekten van het maag-darmkanaal hebben geleid. De gezondheid van de darmslijmhuid wordt met dit voer ondersteund en een evenwichtige darmflora wordt bevorderd. Rijst en kip als zeer goed verdraagbare voedingsstofcombinatie helpen, het risico van een allergische reactie te verminderen. Biotine, niacine en pantotheenzuur in combinatie met een zink-linolzuurmix kan het verlies van vocht via de huid reduceren en daarmee de barrièrefunctie versterken. De toevoeging van de essentiële omega-3-vetzuren EPA en DHA kunnen bovendien ontstekende reacties van huid verminderen. Voor een evenwichtige darmflora zorgt de toevoeging van prebiotisch FOS.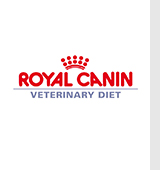 Let op de volgende aanwijzingen:
Het voeden van een veterinair dieetvoer mag alleen in samenspraak met de dierenarts.
Tijdens het voeden van een veterinair dieetvoer, dien je jouw dierenarts regelmatig (elke 6 maanden) te bezoeken.
Als de gezondheid van je huisdier verslechtert, dien je onmiddelijk de dierenarts te raadplegen.
Met de toevoeging van het geselecteerde dieetvoer aan je winkelwagen, bevestig je de bovengenoemde aanwijzingen te hebben gelezen en begrepen.
Indicaties:
Chronisch idiopathische colitis
Chronische darmontsteking
Chronische en acute diarree
Uitsluitdieet
Voedingsmiddelallergie
Voedingsmiddelintolerantie
Contraindicaties:
Specifieke producteigenschappen:
Geselecteerde eiwitbronnen: de makkelijk verteerbare ingrediënten (kip en rijst) zorgen voor een goed verdraagbare ingrediëntencombinatie bij voedingsmiddelonverdraagbaarheden. Ze helpen het risico van een allergische reactie bij betroffen honden te minimaliseren.
Huidbarrière: de zeer hoge aandelen aan biotine, niacine en pantotheenzuur in combinatie met een zink-linolzuurmix kunnen helpen, het verlies aan vocht via de huid te reduceren en daarmee het barrière-effect te versterken.
EPA/DHA: eicosapentaeenzuur (EPA) en docosahexaeenzuur (DHA) zijn lange-keten-vetzuren van het type omega-3. Deze kunnen helpen om ontstekingsreacties van de huid te minimaliseren.
Hoge verteringsgarantie: fermenteerbare vezels (FOS) bevorderen een evenwichtige darmflora en ondersteunen daarnaast de gezondheid van de darmslijmhuid. Dit voer bevat geen lactose en is glutenvrij.
Overige informatie:
SENSITIVITY CONTROL wordt in alle gevallen van chronische dermatosen met een allergische achtergrond aanbevolen, inclusief atopische dermatitis.