Dieetvoer met speciale receptuur voor honden vanaf 6 maanden met arthrose en andere gewrichtsproblemen, ondersteuning na operaties, bij gewrichts- en gewrichtskapselbeschadiging.


Advance Veterinary Diets Articular Care is evenwichtig dieet-compleetvoer, dat speciaal ter ondersteuning van de medische behandeling van honden met gewrichtsziekten werd ontwikkeld. Het is geschikt voor het voeren van alle honden vanaf 6 maanden. Dit voer kan de genezing bij arthrose, kraakbeen- en gewrichtskapselbeschadigingen of na operaties positief beinvloeden en ondersteunen. Advance Veterinary Diets Articular Care is rijk aan hyaluroonzuur, glucosamine en chondroïtinesulfaat, die op natuurlijke wijze het behoud en de genezing van kraakbeen bevorderen. Vitamine K in het voer kan verkalking van de botten, kraakbeen en bloedvaten tegengaan. Een gematigd caloriegehalte helpt tevens het lichaamsgewicht te reduceren om de gewrichten van honden met overgewicht te ontlasten en daardoor de mechanische overbelasting te minimaliseren.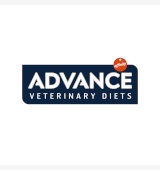 Let op de volgende aanwijzingen:
Het voeden van een veterinair dieetvoer mag alleen in samenspraak met de dierenarts.
Tijdens het voeden van een veterinair dieetvoer, dien je jouw dierenarts regelmatig (elke 6 maanden) te bezoeken.
Als de gezondheid van je huisdier verslechtert, dien je onmiddelijk de dierenarts te raadplegen.
Met de toevoeging van het geselecteerde dieetvoer aan je winkelwagen, bevestig je de bovengenoemde aanwijzingen te hebben gelezen en begrepen.
Advance Veterinary Diets Articular Care in één oogopslag:
Dieet-compleetvoer voor honden vanaf 6 maanden
Bij arthrose en andere gewrichtsziekten, kraakbeen- en gewrichtskapselbeschadigingen
Hyaluroonzuur: verbetert de visco-elastische eigenschappen van het gewrichtsvocht en verlicht zo gewrichtsontstekingen en -pijn.
Glucosamine en chondroïtinesulfaat: is in staat proteoglycane te vormen. Dit zijn de belangrijkste bestanddelen van kraakbeen. Bevordert de regeneratie en het behoud van kraakbeen.
Vitamine K: kan verkalking van botten, kraakbeen en bloedvaten voorkomen en het verlies aan botmassa reduceren. Het risico op botbreuken en arthrosen kan zo worden geminimaliseerd.
Essentiele omega-3-vetzuren, EPA & DHA: kunnen de vorming van ontstekingsremmende cytokinen induceren en daardoor acute gewrichtspijn verzachten.
gehydrolyseerd collageen: vergelijkbaar met kraakbeencollageen, kan ertoe bijdragen de afbraak van gewrichtskraakbeen te reduceren.
Bioflavonoïde: natuurlijke antioxidanten, versterken de antioxidatieve werking van vitamine E en C, kunnen oxidatieve celbeschadigingen minimaliseren.
Gematigd caloriegehalte: rijk aan ballaststoffen en eiwit. Kan helpen overgewicht te reduceren en zo de mechanische overbelasting van de gewrichten te minimaliseren.
Indicaties:
Bij arthrose of als profylactische behandeling
Als ondersteuning voor de gewrichten na operaties of trauma's en bij andere ziekten met gewrichtspijn en -ontsteking .
Geschikt voor honden van alle leeftijden en voor puppies vanaf 6 maanden
Werking op structuren, die door gewrichtsslijtage zijn betroffen: kraakbeen, subchondrale botten, gewrichtssmeer en gewrichtskapsel.
Contraindicaties:
Volgens de producent geen bekend.