Droogvoer voor honden vanaf 7 jaar met gewrichtsproblemen, Pro Age-complex met antioxidanten en gereduceerd fosfor, glucosamine, chondroïtine en collageen, kan spiermassa en mobiliteit verbeteren


Het recept van Advance Veterinary Diets Articular Care Senior Hondenvoer is speciaal ontwikkeld naar de bijzondere voedingsbehoeften van honden vanaf 7 jaar oud. Het bevat waardevolle ingrediënten die klinisch bewezen artritis, gewrichtsproblemen vanuit een ontsteking, slijtage en achteruitgang van de botten kunnen tegenwerken. Daarnaast helpt deze lichte en smakelijke maaltijd uw hond bij het terugbrengen van zijn gewicht. Een bijzonder hoog aandeel erwtenproteïnen stimuleert het behouden van een krachtige spiermassa. Zo worden de gewrichten, die op hoge leeftijd sterk belast worden, door een slanke lijn ontlast en dankzij een krachtige lichaamsbouw bovendien in zijn stabiliteit ondersteunt.

De extracten uit citroenverbena kunnen gewrichtproblemen verzachten die voortkomen uit ontstekingen of de hoge leeftijd. Vitamine K2 draagt bij aan de mineralisatie van de botten, kan zo osteoporose voorkomen of verminderen en daarmee het risico op breuken verlagen. Daarnaast helpen omega-3-vetzuren, glucosamine en chondroïtine bij het gezond houden van het kraakbeen en de gewrichten van uw hond. Al met al verhoogt deze klinisch geteste mix van vitaalstoffen aantoonbaar het welbevinden en de mobiliteit van uw hond. Bovendien is Advance Veterinary Diets Articular Care Senior zowel geschikt om bij bestaande gewrichtsproblemen of na een operatie te geven als preventief tegen osteoporose en slijtage op een voortschrijdende leeftijd.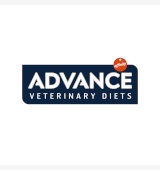 Let op de volgende aanwijzingen:
Het voeden van een veterinair dieetvoer mag alleen in samenspraak met de dierenarts.
Tijdens het voeden van een veterinair dieetvoer, dien je jouw dierenarts regelmatig (elke 6 maanden) te bezoeken.
Als de gezondheid van je huisdier verslechtert, dien je onmiddelijk de dierenarts te raadplegen.
Met de toevoeging van het geselecteerde dieetvoer aan je winkelwagen, bevestig je de bovengenoemde aanwijzingen te hebben gelezen en begrepen.
Advance Veterinary Diets Articular Care Senior Hondenvoer in één oogopslag:
Enkelvoer voor honden vanaf 7 jaar oud met extra functie voor de gezondheid
Gezonde gewrichten: ideale combinatie voedingsstoffen die oudere honden met gewrichtsproblemen helpt mobieler te worden
Hoog aandeel erwtenproteïne: draagt bij aan het behoud van een krachtige en gezonde spiermassa
Bevat citroenverbena-extract: kan door ontstekingen en oxidatieve stress bepaalde gewrichtspijn verzachten
EPA & DHA: onverzadigde omega-3-vetzuren uit visolie kunnen een ontstekingsremmende werking hebben
Hydro-collageen: kan bijdragen aan het heraanmaken van gewrichtskraakbeen
Pro-age complex: antioxidanten en verlaagde fosforwaarden, die de nieren van uw oudere hond verlichten
Vitamine K2 (MK-7): kan bijdragen aan het op peil houden van de botdichtheid, kan osteoporose tegenwerken en zo botbreuken helpen voorkomen
Gereduceerd fosforgehalte: ontlast de nieren van uw seniorhond
Licht en goed verteerbaar: overheerlijk recept met lichte kip en veel ballaststoffen
Werkzaamheid klinisch gestest: door dierenartsen aanbevolen, kan zowel preventief als ondersteunend bij bestaande gewrichtsproblemen, artritis of na een operatie worden ingezet
Vitaalstoffencomplex: evenwichtige formule met een veelvoud aan vitaminen, mineralen en sporenelementen voor maximaal welbevinden en een sterk afweersysteem op de oude dag