Purina Pro Plan Veterinary Diets - JM Joint Mobility is een gebalanceerd compleetvoer voor honden van alle leeftijden, puppies, volgroeide honden en senior honden, met gewrichtsproblemen.
Factoren zoals leeftijd, overgewicht of aangeboren afwijkingen kunnen de gezondheid en de mobiliteit van jouw hond beïnvloeden. Aangepaste voeding kan je hond helpen een goede gezondheid te behouden en zijn mobiliteit te verbeteren.
Purina Pro Plan Veterinary Diets - JM Joint Mobility hondenvoer is een voedingsbehandeling voor honden, die aan arthrose lijden. Arthrose is de meest voorkomende oorzaak van chronische pijn bij volwassen en oude honden. Onderzoeken hebben uitgewezen dat eicosapentaenzuren (EPA) helpen de enzymen, die schade aan kraakbeen veroorzaken, te reduceren. De passende verhouding van de vetzuren Omega-3 en Omega-6 dragen er aan bij de ontstekingen te reduceren. Versterkte percentages glucosamine en chondroitine ondersteunen het behoud van gewrichtskraakbeen.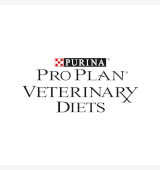 Let op de volgende aanwijzingen:
Het voeden van een veterinair dieetvoer mag alleen in samenspraak met de dierenarts.
Tijdens het voeden van een veterinair dieetvoer, dien je jouw dierenarts regelmatig (elke 6 maanden) te bezoeken.
Als de gezondheid van je huisdier verslechtert, dien je onmiddelijk de dierenarts te raadplegen.
Met de toevoeging van het geselecteerde dieetvoer aan je winkelwagen, bevestig je de bovengenoemde aanwijzingen te hebben gelezen en begrepen.
Purina Pro Plan Veterinary Diets - JM Joint Mobility hondenvoer biedt:
hoge EPA en Omega-3-vetzuren
hoge concentraties antioxidatief vitamine E en C
hoog proteinegehalte : calorien-verhouding
natuurlijke glucosamine-bron
uitstekende smaak
Medische indicaties: : Wanneer je twijfelt of dit voer geschikt is voor jouw hond, kun je de dierenarts om advies vragen.