Dieetvoeding voor volwassenen katten met allergieën of voedselintoleranties die leiden tot huid- en spijsverteringsstoornissen. Geschikt voor een eliminatiedieet met paard als enige eiwitbron.

Onder voedselonverdraagzaamheden vallen alle abnormale fysiologische reacties ten gevolge van het eten van dierenvoer of toevoegingsmiddelen. Hierbij wordt er onderscheid gemaakt tussen voedselallergieën of voedselintoleranties.

Bij een voedselallergie is er een overreactie van het immuunsysteem op bepaalde eiwitten. Bij voedselintoleranties is er ook een reactie op bepaalde eiwitten maar zonder beïnvloeding van het immuunsysteem. Zowel voedselallergieën als voedselintoleranties kunnen huid- en spijsverteringsproblemen zoals jeuk en diarree veroorzaken. Om een voedingsonverdraagzaamheid te bewijzen is een uitsluitingsdieet noodzakelijk. Hiervoor is voer nodig dat een eiwitbron heeft met zo weinig mogelijk verschillende bestanddelen.

Huidproblemen zijn niet alleen het meest voorkomende gevolg van voedselonverdraagzaamheden maar ook van vlooienspeeksel- en omgevingsallergieën. Om de huidfunctie optimaal te ondersteunen is voer met hoogwaardige verzadigde vetten het meest geschikt.

Hoe ondersteunt Concept for Life Veterinary Diet Hypoallergenic jouw kat?

Concept for Life Veterinary Diet Hypoallergenic is een speciaal ontwikkeld premium dieet-compleetvoer voor volwassen katten. Het is optimaal aangepast aan de behoeftes van katten die last hebben van onverdraagzaamheden zoals allergieën en intoleranties of huidproblemen.

Om symptomen van afscheidings- en voedselintoleranties te verminderen gebruikt Concept for Life Veterinary Diet Hypoallergenic paardenvlees als enige eiwitbron. Er is gekozen om geen veelvoorkomend dierlijk eiwit te gebruiken omdat de kans op een lichamelijke reactie van je kat daarbij groter is. Ter ondersteuning van de huidfunctie bij dermatose en overmatig haarverlies wordt bij Concept for Life Veterinary Diet Hypoallergenic lijnzaadolie gebruikt. Dit staat bekend om haar uitzonderlijk hoge gehalte omega 3-vetzuren.

Concept for Life Veterinary Diet – voeding op maat voor je zieke kat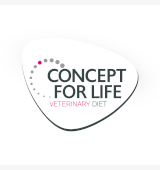 Let op de volgende aanwijzingen:
Het voeden van een veterinair dieetvoer mag alleen in samenspraak met de dierenarts.
Tijdens het voeden van een veterinair dieetvoer, dien je jouw dierenarts regelmatig (elke 6 maanden) te bezoeken.
Als de gezondheid van je huisdier verslechtert, dien je onmiddelijk de dierenarts te raadplegen.
Met de toevoeging van het geselecteerde dieetvoer aan je winkelwagen, bevestig je de bovengenoemde aanwijzingen te hebben gelezen en begrepen.
Onze kwaliteitsgarantie:
Dieet-compleetvoer op maat voor je zieke kat
Wetenschappelijk onderbouwd voedingsconcept dat de behandeling van de dierenarts ondersteunt
Graanvrij recept
Zonder tarwe, mais en soja
Wordt zelden afgeslagen en is verdraagzaam door het gebruik van hoogwaardige rauwe vleesingrediënten
Geproduceerd in Duitsland
Algemene tips:
Het is aan te raden om voor gebruik contact op te nemen met de dierenarts.
Bezoek tijdens het voeren met dieetvoer regelmatig de dierenarts voor controles.
Ga direct naar de dierenarts als de gezondheid van je huisdier achteruit gaat.