Enkelvoer voor de volwassen kat. Kan bijdragen aan de ondersteuning van de gezondheid van de urinewegen door reductie van mineralen, gematigde energieniveau voor behoud van het ideaalgewicht.


De juiste voeding hangt samen met factoren zoals leeftijd, fysiologie, ras en de levenswijze. Royal Canin benadrukt deze parameters en houdt rekening met de specifieke voedingsbehoeften van de katten. Royal Canin Sterilised in gelei is een speciaal voer voor katten na een castratie of sterilisatie. Dit voer is gebaseerd op de hoogste kwaliteitseisen van Royal Canin en houdt rekening met het instinctieve Optimale-Voedingsstoffen-profiel (OPN) van de volwassen kat (vanaf 1 jaar)

Royal Canin Sterilised kattenvoer kan gesteriliseerde of gecastreerde katten helpen met het behouden van het ideale gewicht en de gezondheid van de urinewegen:
Reeds na 48 uur na de castratie stijgt de voedingsiname van katten met 20%, terwijl de energiebehoefte tegelijkertijd met ongeveer 30% daalt. De reductie van de koolhydraten zorgt voor een langzame stijging van de bloedsuikerspiegel en kan tot vroegtijdig hongergevoel leiden.

Het specifieke Optimale-voedingsstoffen-profiel (ONP) van volwassen katten leidt tot een instinctieve en langdurige acceptatie. Omdat zelfs de beste voeding geen nut heeft, als de kat het niet eet.
Royal Canin Sterilised natvoer zijn sappige brokken in lekkere gelei. De geportioneerde maaltijdzakjes behouden de volle smaak van de voeding en beschermen hun hoge voedingsstoffen. Toch zijn ze eenvoudig te openen.
Royal Canin natvoer biedt een evenwichtige totaal-verzorging:

Essentiele vetzuren: leveren waardevolle energie, kan de natuurlijke weerstand ondersteunen en een glanzende vacht bevorderen.
Veel verschillende vitaminen: hebben een antioxidatieve werking, kunnen het immuunsysteem versterken en de stofwisseling bevorderen.
Mineralen: kunnen ondersteunend werken op de stofwisseling, een gezonde huid bevorderen en bijdragen aan een stabiele botstructuur.
Voedingsstoffen: kunnen een gunstig effect hebben op een uitgebalanceerde darmflora en een gezonde spijsvertering.
Eiwitten: kunnen zorgen voor een optimale ontwikkeling van de organen, spieren en het bindweefsel.
Hoge verteerbaarheid:dankzij de zorgvuldige keuze van de grondstoffen is er minimaal 90% proteïneverteerbaarheid.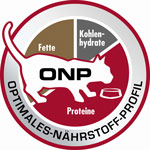 Hetinstinctieve voorkeur- het optimale voedingsstoffenprofiel: de nieuwe gezonde voeding met Optimale-Voedingsstoffen-Profiel (ONP) is een aan de levensfase en individuele bijzonderheden van een kat aangepaste formule. Het Optimale-Voedingsstoffen-Profiel beschrijft de verdeling van energie, die door de voedingsstoffen geleverd wordt. Het staat voor een optimale balans tussen eiwitten,vetten en koolhydraten ter bevordering van een lange acceptatie. Het specifieke voedingstoffenprofiel varieert met de leeftijd van de kat, maar tevens door de fysiologische status (zwanger, zogen).

De kat heeft de vaardigheid om voeding te herkennen en uit te kiezen,die optimaal aansluit bij zijn individuele voedingsstoffenprofiel. Gecombineerd met de kennis van Royal Canin garandeert het concept van Optimale-Voedingsstoffen-Profiel (ONP) een uitzonderlijke, langdurige acceptatie van de voeding. Katten worden het Feline Health Nutrition product van Royal Canin niet zat! Het is daarom niet nodig, om van smaak te veranderen, omdat smaak bij katten slechts een geringe invloed heeft op de voedingskeuze.