Feliway verhoogt het welzijn van uw kat, chemisch geproduceerde kopie van het "geluksferomoon" van katten, houdt uw kat rustig in een nieuwe omgeving en houdt plassen op ongewenste plekken tegen
Feliway® zorgt voor de kalmering van katten in stressvolle situaties en zorgt voor een extra vertrouwen. Voorbeelden van stressvolle situaties zijn bijvoorbeeld het transport van uw kat, een verhuizing, de herinrichting van uw meubelen of het toevoegingen van nieuwe meubelen in uw inrichting. In dit soort situaties kunt u het kunstmatige feromoon vrijlaten zodat uw kat meer vertrouwen in de situatie heeft en zich geborgen voelt.
Feliway® is als spray of als verdamper voor in het stopcontact verkrijgbaar.
In één van de klieren in de kind van uw kat wordt het omgevingsferomoon aangemaakt. Het handelt zich hierbij om een gezichtsferomoon van de F3-frachtie. Dit feromoon wordt onder andere gebruikt om muren en meubels als veilig te markeren. Bevindt zich uw kat echter in een stressvolle situatie, kan dit feromoon niet worden geproduceerd, waardoor uw kat bang of agressief zal worden. Deze ontevredenheid zal uw kat uiten door op verschillende plekken in uw huis te plassen of aan uw meubels te krabben.
Feliway® is gemaakt om uw kat in dergelijke stressvolle situaties te kalmeren. De synthetische kopie van het feromoon vertelt uw kat dat ze veilig is.

Feliway® is ook als omgevingsspray verkrijgbaar. Deze kunt u gebruiken om op specifieke plekken, bijvoorbeeld waar uw kat vaak plast, te spuiten.
Ook de transportspray kunt u ook de transportbox van uw kat omtoveren tot een veilige plek. De spray kunt u makkelijk in uw tas stoppen, waardoor u ook tussendoor uw kat een geborgen gevoel kunt bieden.


Let op:
Feliway® navulflacons 48 ml kunnen alleen met de ronde witte of paarse verdampers tot wel 30 dagen worden gebruikt. De passende navulflacons zullen binnenkort verkrijgbaar zijn bij Zooplus.
Door de nieuwste onwikkelingen in de technologie passen de flacons van de hoekige, witte verstuivers niet meer on de ronde witte of paarse verdampers!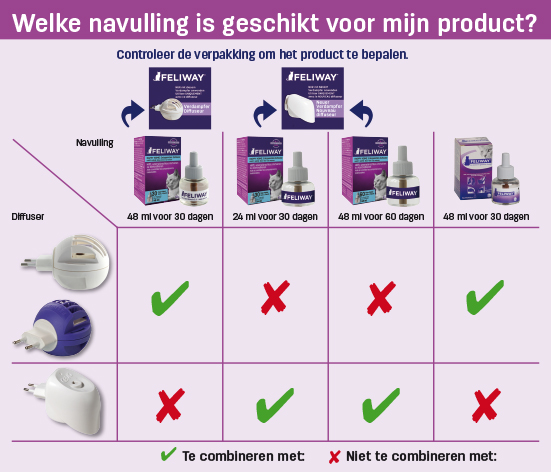 Feliway® in één oogopslag:
Synthetische kopie van het F3-gezichtsferomoon (=omgevingsferomoon) van katten
Als verdamper in het stopcontact of als handspray in handig formaat om mee te nemen
Het beste resultaat krijgt u wanneer u één week voor het begin van een stressvolle situatie begint met het sproeien en dit vier weken lang volhoudt
Wanneer het gedrag van uw kat op positieve wijze verandert, kunt u Feliway® 2 weken lang na de verandering van het gedrag blijven gebruiken
Geschikt voor langdurig gebruik
Zorgt voor een geborgen gevoel in onbekende situaties en zorgt voor minder stress
Kan als voorzorgsmaatregel in nieuwe omgevingen (verhuizing, transport, opname in kattenpension etc.) worden gebruikt
Met de spray kunnen urine- en krabmarkeringen worden tegengegaan
Reduceert stress en gevoeligheid en zorgt voor kalmte
Ook handig wanneer u meerdere katten in één huishouden wilt plaatsen, ook wanneer deze katten vroeger al samen hebben gewoond
Geen bijwerkingen
Is niet geschikt voor het verwijderen van vieze geurtjes
Geur is voor mensen niet waarneembaar
Feliway® laat geen residu of vlekken achter
Feliway® is geschikt voor elke leeftijd, ook voor zieke dieren
Gebruiksaanwijzing:
Feliway® Sprays:

De Feliway® spray kunt u gebruiken zonder vlekken op uw meubels etc. te creëren, gebruiken. Desalniettemin wordt toch aangeraden om de spray eerst op een onopvallend stukje meubel te testen
Gebruikt u de spray wanneer uw kat niet in de kamer is
Schudden voor gebruik
Wacht u na het sprayen een kwartier voordat u uw kat weer in de kamer laat komen
Zorgt u er bij urinemarkeringen voor dat u de plek eerst met een geurloos schoonmaakmiddel (geen parfum, ammoniak etc, omdat de werking van de spray hierdoor kan worden gereduceerd). Voor een extra hulp kunt u ook gebruik maken van de Feliway® verdamper
Om krabmarkeringen te voorkomen sprayt u eenmaal per dag 6 verstuivingen op de getroffen plek
Om krabmarkeringen te voorkomen en uw kat te wennen, kunt u de spray twee weken lang dagelijks gebruiken
Voor een stressvrij transport sprayt u 15 minuten voor u de kat in de transportbox doet een maal in elke hoek en twee maal op de bodem en het plafond van de transportbox
Leeft uw kat in een huishouden met meerdere katten, gebruik dan de Feliway® spray zoals hierboven beschreven en herhaalt u dit gebruik tweemaal daags voor minstens 45 dagen
Wij raden u aan:
Wanneer het gedrag van uw kat verandert, of hij stresssymptomen heeft, hoort u eerst naar uw dierenarts te gaan, om uit te sluiten dat uw kat ergens anders last van heeft.
Eerst het etiket en de productinformatie lezen voor u Feliway® gebruikt.
Buiten bereik van kinderen en huisdieren bewaren.
Niet in de ogen, slijmvliezen of op open wonden sprayen. Wanneer de spray in de ogen terecht komt, meteen de ogen uitspoelen en een dierenarts opzoeken.
Bij inslikken direct een dierenarts raadplegen en de verpakking of etiket tonen.