Dieetvoer voor volwassen katten met nierinsufficiëntie of met osteoartrose, ondersteunt de nierfunctie en stimuleert mobiliteit & beweeglijkheid, laag fosforgehalte.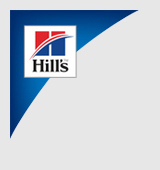 Let a.u.b. op de volgende aanwijzingen:
Het voeren van diergeneeskundig dieetvoer mag alleen in overleg met uw dierenarts gebeuren.
Tijdens de periode van het voeren van dit dieetvoer dien u regelmatig met uw huisdier (elke 6 maanden) ter controle langs te gaan bij de dierenarts.
Mocht het zo zijn dat de gezondheid van uw huisdier verslechtert in de periode dat uw huisdier Hill's Prescription Diet krijgt, dient u uw dierenarts te raadplegen.
Met het toevoegen van dit dieetvoer aan uw winkelwagen bevestigt u de bovenstaande aanwijzingen te hebben gelezen en begrepen.
Prescription Diet Feline K/D +Mobility van Hill's is speciaal ontwikkeld voor volwassen katten met chronische of acute nierinsufficiëntie. Tegelijkertijd is dit diëtetische enkelvoer geschikt om bij osteoartrose en gewrichtsproblemen te geven. Dankzij een laag fosfor- en natriumgehalte en een bijzonder groot aandeel EPA, Omega-3 en vitamine E ondersteunt het de nier- en hartfunctie en stimuleert het bovendien de gewrichtstofwisseling. Zo draagt deze smakelijke maaltijd bij aan het verzachten van nierklachten en ondersteunt uw kat in mobiliteit en levensvreugde.
Dit eetlustopwekkende droogvoer bevat een gereduceerd aandeel proteïnen, die echter van erg hoge kwaliteit zijn en zo aan de opbouw van slanke, krachtige spieren bijdragen. Gepaard met glucosamine en chrondroïtine, die de opbouw van kraakbeen en de beweeglijkheid van de gewrichten stimuleren, bevordert dit de mobiliteit van uw kat. Binnen slechts 28 dagen kunt u zien hoe uw kat merkbaar behendiger gaat lopen, klimmen en springen. Hoogwaardig voer, dat door dierenartsen voorgeschreven wordt en uw kat er op effectieve wijze bij helpt om de gezondheid van nieren en gewrichten te behouden.
Indicaties

Ondersteuning van de gewrichtstofwisseling bij osteoartrose bij volwassen katten EN van chronische nieraandoeningen (alle IRIS-stadia)
Hartinsufficiëntie
Urat- en cystinurolithiasis
Contraindicaties
Kittens
Drachtige en zogende katten
Katten met natriumtekort
Hill's PD Feline K/D +Mobility in één oogopslag:
Diëtetisch enkelvoer voor volwassen katten
Speciaal ontwikkeld voor katten met chronische of acute nierinsufficiëntie of met osteoartrose of gewrichtsproblemen
Ondersteunt de nierfunctie en gewrichtstofwisseling: Recept met laag fosfor- & proteïnegehalte, rijk aan Omega-3, vitamine E, DHA, methionine en mangaan
Met chondroïtine & glucosamine: ondersteunen de opbouw van kraakbeen en de aanmaak van gewrichtsvocht
Hoogwaardige proteïne: met 21% kip en kalkoen, met een bijzonder waardevol aminozuurprofiel, draagt bij aan slanke, krachtige spierpartij
Meer mobiliteit binnen 28 dagen: zichtbaar resultaat, die behendiger lopen, springen en klimmen mogelijk maken
Hoge acceptatie: met Enhanced Appetite Trigger (E.A.T.) –technologie die de eetlust van katten met nieraandoeningen aanvuurt, voor een calorieopname die tot wel 35% hoger is dan bij traditioneel voer
Evenwichtig en rijk aan vitaalstoffen: met vitaminen, mineralen, sporenelementen en beta carotine en natuurlijke antioxidanten, voor een optimaal gezond lichaam en een sterk afweersysteem
Door dierenartsen aanbevolen: een klinisch werkzaam voer dat vaak door dierenartsen wordt voorgeschreven
100% smaakgarantie - uw huisdier zal er dol op zijn!

Hill´s Prescription Diet producten worden uitsluitend van hoogwaardige ingrediënten gemaakt en hebben een goede smaak. Hill's is ervan overtuigt, dat uw huisdier Hill's Prescription Diet verrukkelijk gaat vinden en spreekt daarom voor deze producten een 100% smaakgarantie uit.