Vegetarisch, 99,99% veganistisch droogvoer voor volwassen honden, vlees- en graanvrij, met aardappelen, erwten, kruiden en fruit, uitgebalanceerde voeding, zonder kunstmatige toevoegingen


Voor honden, die allergisch reageren op dierlijk eiwit, als toevoeging op de vleesvoeding of als een dagelijks volledig vegetarisch dieet: VeggieDog Graanvrij biedt een gezond alternatief en garandeert daarbij een evenwichtige verzorging met voedings- en vitaalstoffen van het organisme van jouw volwassen hond. Het voer is graanvrij en bevat geen dierlijke rauwe producten. Vlees noch dierlijke nevenproducten uit conventionele dierhouding zijn toegevoegd. Zo is de voor 99,99% veganistische premium-maaltijd ook bij allergie en intolerantie voor de gebruikelijke eiwitbronnen en gluten of tarwe uitermate geschikt.

De veggie-dieetkost bevat aardappel en hoogwaardige erwten als energiebronnen. Het totale lage eiwitgehalte van het licht verteerbare voer kan de stofwisseling en de organen ontlasten. Door waardevolle vetzuren, een zinvolle vitaminen-mix, zink en koper ontbreekt het je hond aan niets. Kruiden, vruchten en algen, die rijk zijn aan vitale stoffen, zorgen voor welzijn en kunnen een gezonde, glanzende vacht positief beïnvloeden. Modern voer uit Duitsland, waarmee je iets goeds doet voor je hond, maar ook voor de natuur!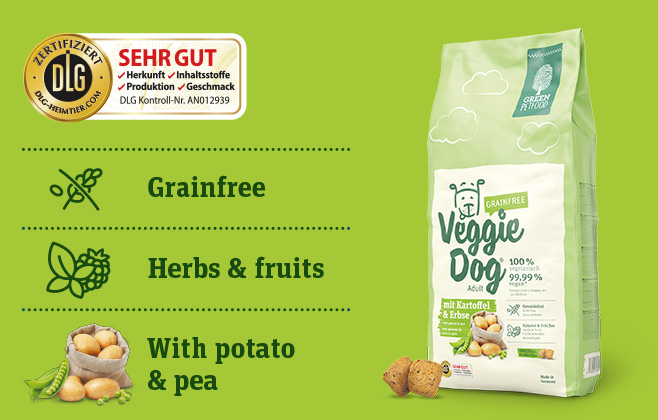 Green Petfood VeggieDog graanvrij in één oogopslag:
Groen premium-compleetvoer voor volwassen honden
Ideaal voor honden met intolerantie tegen dierlijke eiwitten
Vrij van dierlijke componenten: uitstekende verdraagbaarheid, omdat de receptuur geen vlees en geen dierlijke rauwe producten bevat
Graanvrij: ook uitermate geschikt bij allergie en voedselintolerantie
Met aardappel & erwten: alternatieve energiebronnen, die licht verteerbaar zijn en niet belasten
Evenwichtige mix aan voedingsstoffen: bevat vruchten, kruiden en algen als natuurlijke bron van vitale stoffen evenals zink, koper en vitaminen
Glanzende vacht: receptuur kan de conditie van huid en vacht positief beïnvloeden
Zeer goed verdraagbaar: behoedzaam verwerkte componenten, lichte receptuur
Milieuvriendelijke verpakking: uit meer dan 70% recycling-PE
Modern, duurzaam concept: complete benadering van het leven en in harmonie met de natuur
Vegetarisch is mogelijk omdat....
Een hond heeft veel betere fysieke mogelijkheden dan een wolf om zetmeelrijk voedsel te verteren (verhoogde enzymafgifte).
De hond kan zijn behoeften beter dekken met een slimme combinatie van plantaardige eiwitten dan met vleesproteïnen.
De hond heeft milennia lang een evolutionaire ontwikkeling doorgemaakt met mensen, daarom is hij ook aangepast aan de levensomstandigheden van mensen.